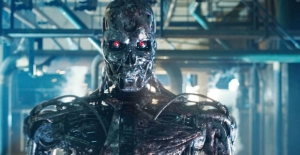 Earlier this month I got to work with some amazing talent as a Second Unit Director and Fight Choreographer as part of a promotional video for the new Terminator:Genisys movie.
Working with Youtube stars Lily Singh, Olga Kay and a great production team,
I was able to create 3 firefights and 2 hand to hand combat sequences for more than 50 combatants
and do it all in one day.
I am proud of the work and also got to create, to my knowledge
and the knowledge of a creator of the new technology, the first VR fight choreography.
I got to fight face to face with Arnold Schwarzenegger and was blown away when I got to see the playback; fully immersed in the same experience I just enacted.
So…
Mind Blown!
Great job enacted and some incredible media created.
I'll keep you posted on it's release.